6 Outfits by Rachel from FRIENDS that are still trendy!
While there are several reasons why the American sitcom FRIENDS turned out to be a sensation, Rachel Greene's outfits are definitely one of them. Not a single season has passed by where Rachel did not give us major fashion goals. Short hair or long hair, Rachel always dressed the best. You know what is surprising, her outfits from the 90s are still trending! I have tried decoding here some of Rachel Greene's best outfits over the ten seasons and also shared some tips on how you can style them for yourself.
1. Gingham mini dress
This outfit gives a very casual and trendy vibe, which is one of Rachel's many styles. This Gingham dress is a very simple outfit and doesn't require any additional accessories as well. You can see that Rachel has kept it minimalistic with just a watch and light makeup. The outfit seems perfect to wear for a casual outing with friends or anyone special. Thinking of recreating it? Check out the link below to find a similar checked frock and try it out yourself.
2. Denim vest
Rachel and denim vests are a combination to die for. While we saw a lot of this combination in the initial seasons, she switched styles during the later ones and experimented with new outfits. Rachel wore this denim vest mostly while working at Central Perk as a waitress. What a stunning waitress she made! Denim vests are still in trend and can be styled in many ways. A short skirt, as Rachel does, is a must-one. Check the link below to find the best denim vest that you can style like Rachel.
3. Checked mini skirt
Rachel in a turtle neck off-white t-shirt and plaid mini skirt is a look to die for! I mean, just look at her. So chic and classy. A high-rise ponytail with this outfit is like a cherry on top. She styled it with a pair of knee-high boots to complete the chic and sporty look. The skirt is hard to find online but I have made your job easier here by finding the perfect skirt just like this one. You can find it in the link below.
4. Retro USA sweatshirt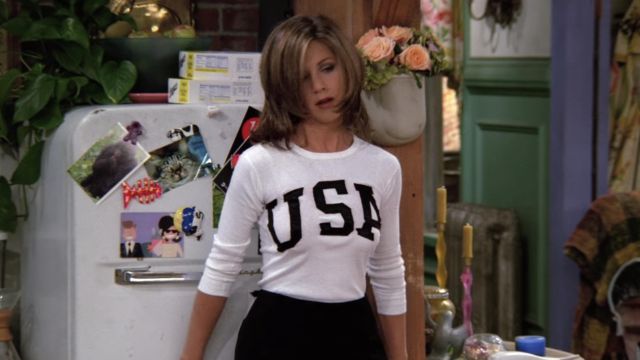 Sweatshirts are trending now, sweatshirts were trending back then. Rachel's retro USA sweatshirt is a mood. It somewhere gives a major "Ms.Popular Girl" vibe, which Rachel obviously was. I liked how she paired it with black shorts and net leggings. But I guess normal denim shorts or ankle-length jeans or joggers may go better today. Well, it is totally your call. I just picked up the sweatshirt for you (find it in the link below).
5. Mint Green Gown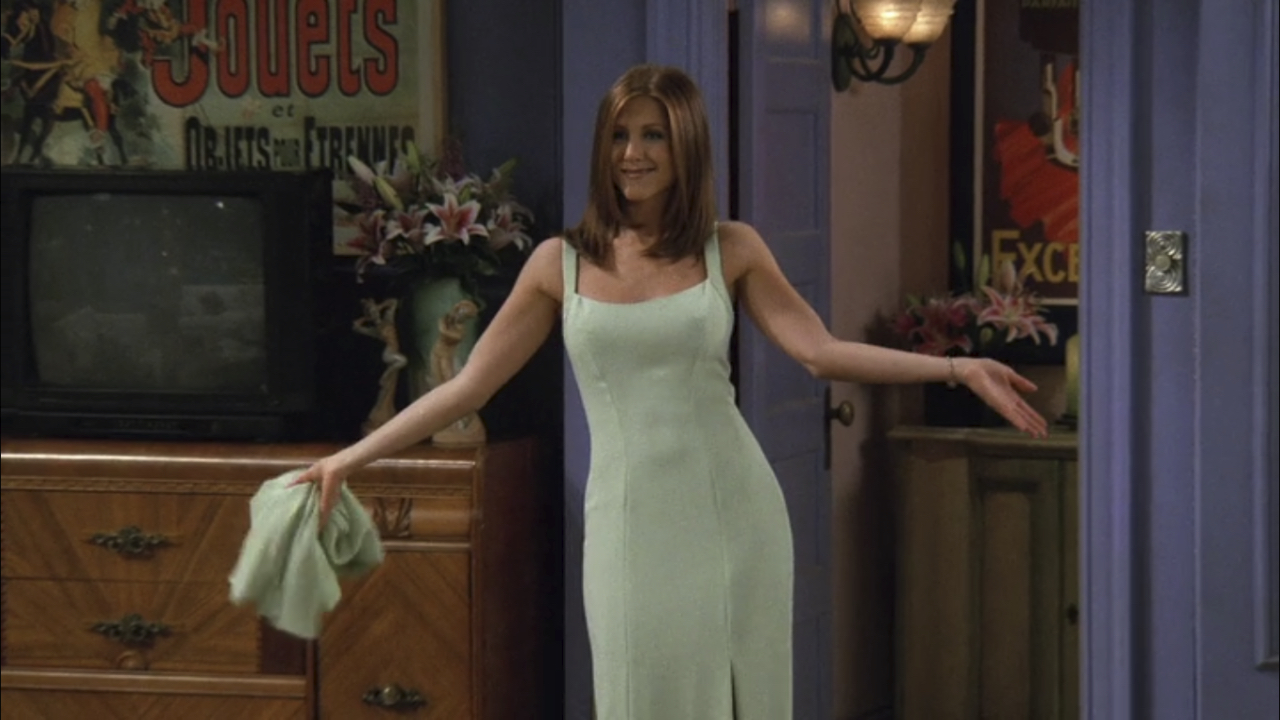 Remember the episode where Ross struggles to get everyone dressed up for his big night? It's a funny episode that is ingrained in my memory. Another striking memory from that episode is Rachel's mint green gown. It is a subtle statement-making piece and one of Rachel's best attires in the whole show. It is classy and elegant, just like Rachel. If you are looking forward to some big event, then this is an outfit to vouch for.
6. Joggers and a t-shirt
Undoubtedly one of the most trending styles today, this crop top and joggers worn by Rachel have stood the test time effortlessly. It is the go-to casual wear for women of all body types. Pair it with sneakers to complete the look.
I can't stop talking about films, so I blog!
I started The FourthWall, my film blog, to share my thoughts on films and shows with fellow movie buffs, and over the years it has become my happy place. Come join in for some interesting conversations on cinema… and sometimes books and fashion!